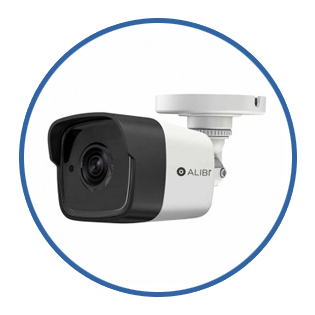 BUSINESS VIDEO SURVEILLANCE
SECURITY SYSTEMS OPTIONS
On-Site Video Surveillance Security Systems

On Your Own Video Surveillence System
Helping you keep your business safe is something SCTI takes to heart. That's why we offer innovative video security technologies and CCTV systems for monitoring your business in Pflugerville, TX.
A video surveillance system is your first-line-of defense against break-ins, theft, liabilities, vandalism, and property damage. Installing a high-quality, multi-camera security camera systems your retail store, or business enables you to keep watch 24/7. And, with remote viewing capabilities—you can view your video from wherever you are—even while you're away, or on vacation.
SCTI can design surveillance camera system that's right for your location, determine the best locations for security cameras, and install and configure everything for you—so your security solution is optimized and ready-to-go.
VIDEO SECURITY CAMERAS
High-Resolution Images – Security cameras that capture high-resolution megapixel or HD images enable you to gain detail needed for facial identification and court-admissible evidence.
Low Light and Nighttime Surveillance – Video security cameras equipped with a built-in IR array, and enhanced imaging features such as Smart IR and 3D-Noise Reduction (3D DNR) will provide better low light and nighttime surveillance capabilities.
Weather Protection – Outdoor security cameras equipped with IP weather-rated enclosures, or offer an extreme temperature operating range will provide all-weather protection—year round.
RECORDING DEVICES
Multiple Channels – Choosing a video recording solution that supports the amount of cameras you need, now and as your needs grow— will enable you to get the most out of your investment.
Multiple Recording Modes – A video recorder that offers continuous, motion-detection, and schedule recording enables you to choose what's best for your application, and maximize recording.
H.264 Video Compression –H.264 video compression reduces file sizes and reduces hard drive storage requirements, while delivering crisp, clean images.
REMOTE MONITORING
Remote and Mobile Access – Remote monitoring enables you to view your video from a web browser or mobile device—from anywhere!
Multiple Recording Modes – A video recorder that offers continuous, motion-detection, and schedule recording enables you to choose what's best for your application, and maximize recording.
Email and Mobile Alerts – Many of our video security solutions can send an alert to your email or mobile device, so you can react to an incident in real-time!
WHICH SECURITY CAMERA SYSTEM IS RIGHT FOR YOUR APPLICATION?
Choosing a video security system that offers the features and capabilities that best meet your needs is essential for effective security.
The security experts at SCTI can help you determine which video security technology and camera security system are right for your location—and your budget.
Cloud Video Surveillance Security Systems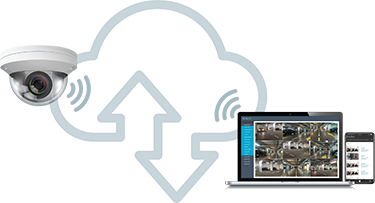 Realize The Benefits of Cloud video Surveillance
Cloud Surveillance solutions are increasingly considered for convenience, scalability, enhanced security, and for risk mitigation of failure or theft of the local recording devices
Enhanced Security -Encrypted, Reliable, Redundant
Unparalleled Accessibility – View Multiple Locations, Anywhere, Anytime
Future Proof – Flexible, Scalable, and Always Up-to-Date
Continuous Delivery – Real-Time Access to the Latest Features & Security Updates
Lower Your Total Cost of Ownership
Reduce up-front hardware investment, and only pay for the storage capacity needed
Minimal up-front cost – no recording devices required
No recording hardware or software support costs
Predictable, low monthly operating costs
No contract or long-term commitments
Manage Your Cloud Video Surveillance From Anywhere
Monitor your business, office, or home via your computer or smart devices – from anywhere you have Internet access. View real-time or recorded video, listen to recorded audio streams, and use our powerful multi-view mode to watch up to 25 camera images at the same time.
Why Choose SCTI for your Video Security Surveillance System?
SCTI has been established as an Alibi authorized re-seller partner and a reliable security company for Pflugerville, TX and the surrounding area. We offer the latest video security technologies and surveillance solutions in Pflugerville, TX that help solve security challenges, and meet the needs of your application — and your budget. Additionally, our trained security technicians are experts at servicing virtually any size security application — from small, single-site installation, to large, multi-site, multi-location projects. We also offer a comprehensive set of security services ranging from site survey and needs assessment, to local installations, technical support, and post-installation maintenance — to support your project from start to finish.
ADVANCED TECHNOLOGY
SCTI is a trusted provider of high quality video security equipment, access control technologies and innovative alarm systems. SCTI delivers the latest security technologies from Alibi, infinias, and LigoWave — and offers a broad range of security products, including analog cameras, network IP cameras, embedded DVRs, hybrid digital video recorders, network video recorders, security monitors, HD analog and IP-based electronic access control solutions.
COMPREHENSIVE VALUE-ADDED SERVICES
SCTI conducts pre-installation consultation, installation services as well as post-installation inspections in Pflugerville, TX. The company undertakes all security maintenance duties for your facility and offers comprehensive value-added services, including:
System Design and Engineering Support
Installation and Project Management
System Configuration and Remote Management
On-Site Service and Support
INDUSTRY-BASED SECURITY SOLUTIONS
We serve a broad range of industries, including home security, retail, small and medium business, large corporate and industrial facilities, financial institutions, education, healthcare, and other government and law enforcement agencies. SCTI supports single and multi-site installation with reliable, cost-effective security solutions, customized for the specific needs of the application.
As your trusted, single-source security provider in Pflugerville, TX, we have a unique way of doing things. It's how we innovate, collaborate, operate and deliver our values — for our clients.